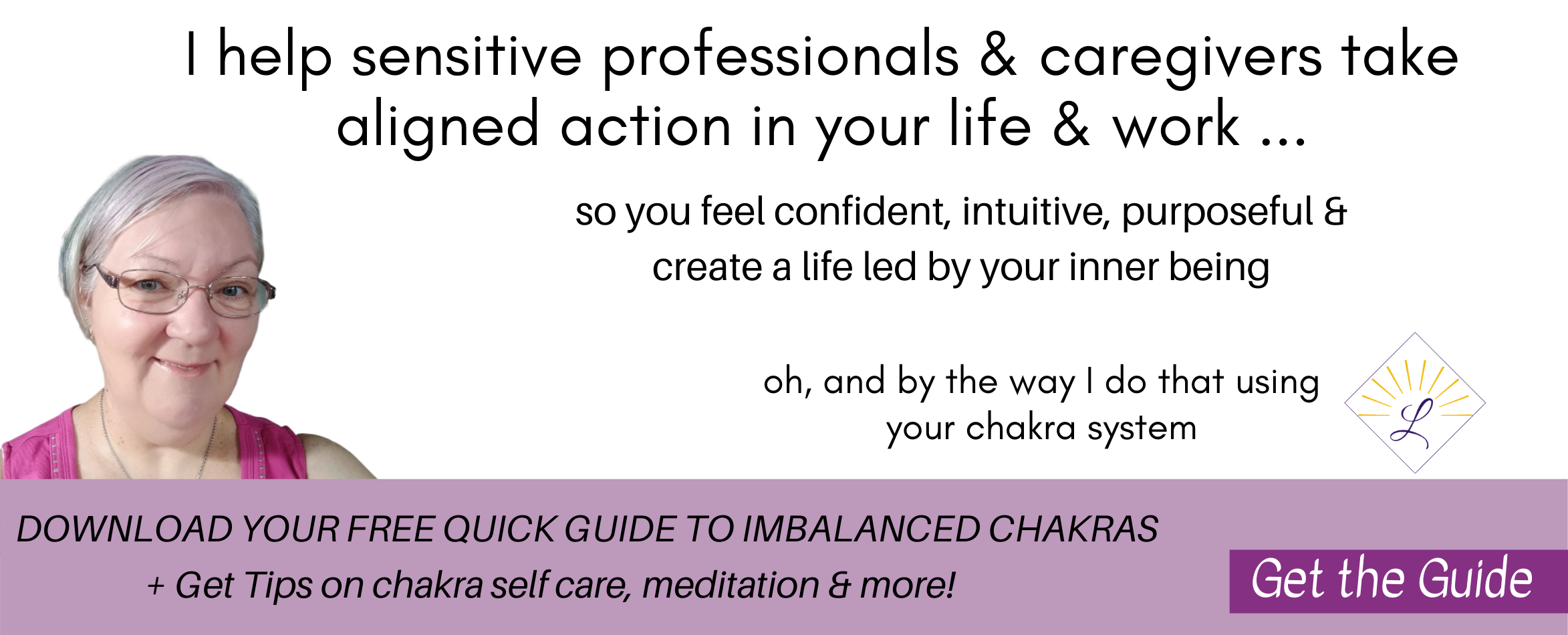 I provide chakra balancing and healing for sensitive women and caregivers to take aligned action in your life and work so that you feel confident, intuitive, purposeful as you create your life led by your inner being.
We all have times where we get a bit overwhelmed by life. We find balance through chakra balancing and healing, self care, meditation and intuitive guidance.
This brings you into your natural energy flow state. Confidence is being in flow. Self doubt is being out of flow.
Chakra balancing, meditation, breathing and grounding allow you to explore your inner space so that you access your intuition to guide your choices in work and life.
Sensitive women and caregivers take up professions such as teaching, nursing and administration because of their caring supportive nature. This often leads to overwhelm, as they focus on the needs of others before themselves.
To fix this it's Not just a simple matter of learning to say no. Instead it's about learning to withdraw your energy from what drains it, so that you refuel yourself then help others by holding space for them to learn and grow.
Chakra Balancing and Healing for Sensitive Women and Caregivers
Your energy naturally drifts out like tentacles as you go about your day. You take on the worries you encounter, you may feel saddened by the difficulties someone else is experiencing, you put aside your own needs to help. This leaves you feeling tired and drained.
Instead let's pull your energy back to you starting with chakra balancing and reset your priorities. I use my three step ReSet method combined with your chakra energy system and my specific process throughout all of my readings, healings, courses and workshops to reset your energy. This keeps the inner work as easy as 1, 2, 3…
Chakra Crystal Energies
Crystal jewelry has its own vibrational energy that supports you as you reset your energy and find balance. I make these crystal necklace hugs myself using the intentional meaning of the crystals then infuse them with reiki energy.
Being clear with your intentions and what you want in life sets a clear path for you to flow with.  Vision, Actions, Thoughts, Emotions in Sync – Learn how to use your inner pendulum to Reset Your Energy  Ask for further Details
 Dimensional Chakra Balancing and Healing

Save
Save
Save
Save
Save
Save
Save
Save
Save
Save
Save
Save
Save
Save
Save
Save
Save
Save
Save
Save
Save
Save
Save
Save
Save
Save
Save
Save
Save
Save
Save
Save
Save
Save
Save
Save
Save
Save
Save
Save
Save
Save
Save
Save
Save
Save
Save
Save
Save
Save
Save
Save
Save
Save
Save
Save
Save
Save
Save