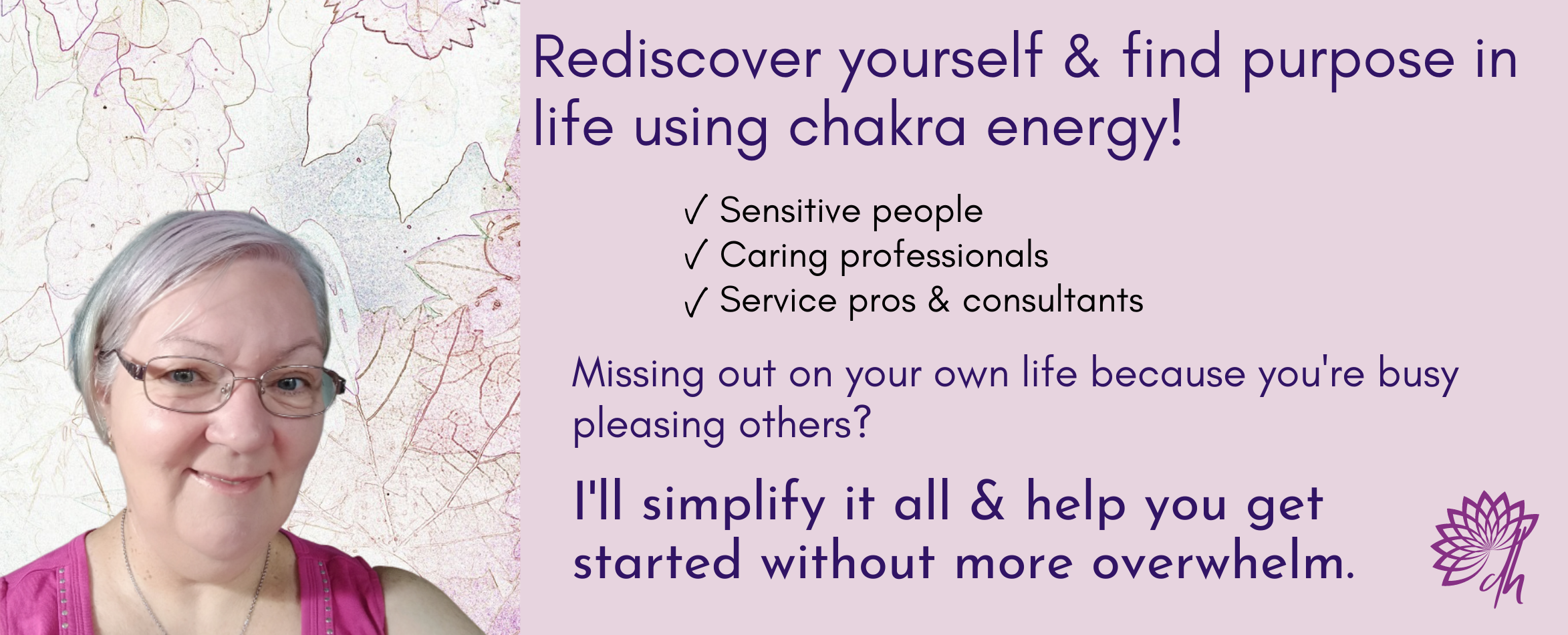 Are you ready to redesign your life to fit you, rather than stretching yourself thin to fit others?
Sensitive caring women are especially attuned to what those around them need. We can be so busy giving of our time and energy pleasing others that we often put our own life and needs on hold. Over time we even forget who we really are.
When all we truly want is a life of ease and flow, free from tension and worry

So let's change that…
It's time for true emotional balance and self discovery. And I can help.
I offer emotional balance and self discovery strategies with chakra tools to help You redesign Your life. This all begins with your personal energy design!

These are simple but effective strategies to help you prioritise yourself, clear old emotions and self doubt from your energy and design a life you love. It's all about emotional balance and self discovery because then the life you're meant to live unfolds for you. Right people, right timing.


Picture this …
Your energy naturally drifts out like tentacles as you go about your day. You take on the worries you encounter, you may feel saddened by the difficulties someone else is experiencing, you may overthink problems and solutions, you put aside your own needs to help. This leaves you feeling tired and drained.
Here's the thing…
You have energy centers or chakras. These portray life themes such as pressure, self love, communication, motivation, emotions, ideas, instinct and more.
Your birth chart shows your personal energy design which is a blend of consistent and fluctuating energy through these centers. It's the first impression of who you are. This is your roadmap to your spectacular life!
There are two types of energy centers. The ones where your energy is consistent. These are innately who you are.
The others fluctuate depending on who you are with and what experiences either you or the other person has had. It's here that you become sensitive to what is happening around you, but it may also be your superpower.
So Instead …
Let's detach your energy from other people, clear out those unwanted emotions and stress, realign your chakra energy and create a new plan that starts with self discovery through your human energy design.
In fact Reset Yourself  with my self paced course which includes my emotional release method that keeps the inner work as easy as 1, 2, 3…
Dimensional Healing – Emotional Balance & Self Discovery Strategies
Being clear with your intentions and what you want in life sets a clear path for you to flow with.  Vision, Actions, Thoughts, Emotions in Sync


Save
Save
Save
Save
Save
Save
Save
Save
Save
Save
Save
Save
Save
Save
Save
Save
Save
Save
Save
Save
Save
Save
Save
Save
Save
Save
Save
Save
Save
Save
Save
Save
Save
Save
Save
Save
Save
Save
Save
Save
Save
Save
Save
Save
Save
Save
Save
Save
Save
Save
Save
Save
Save
Save
Save
Save
Save
Save
Save