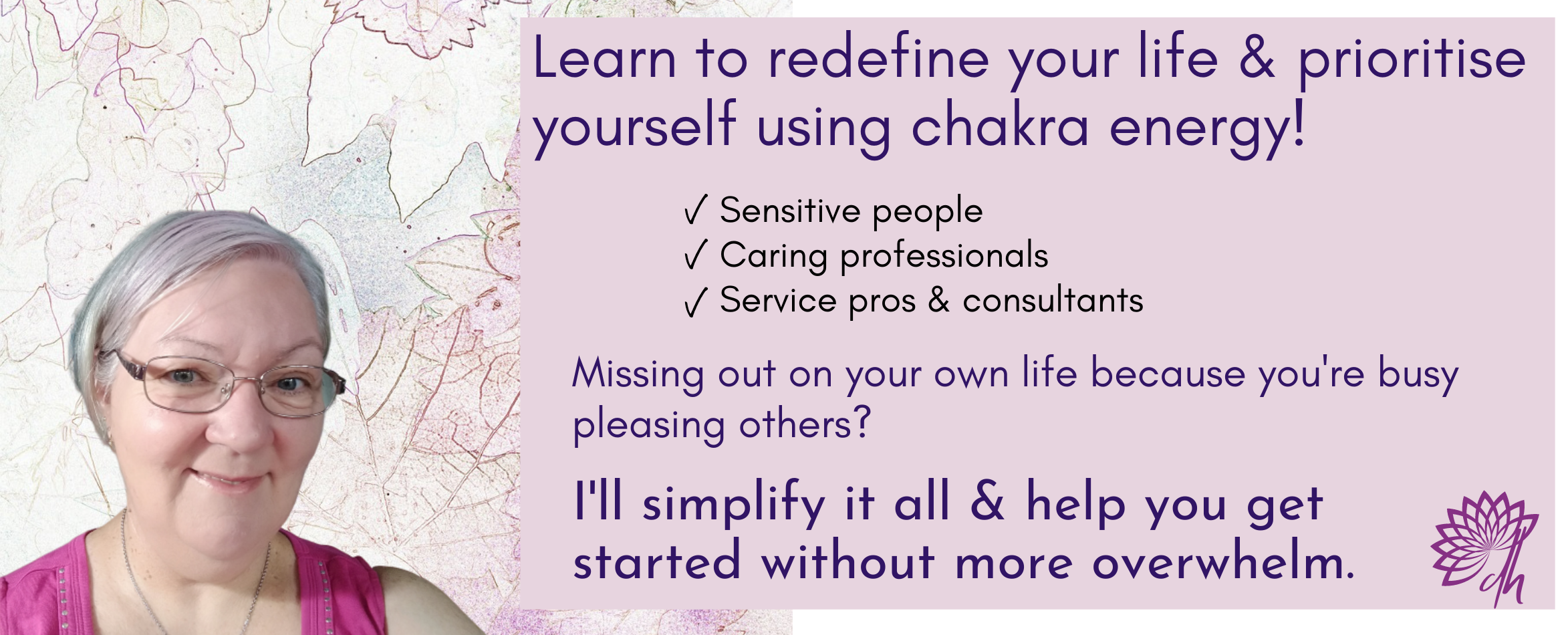 Sensitive caring women are especially attuned to what those around them need. We can be so busy giving of our time and energy pleasing others that we often put our own life and needs on hold.
When all we truly want is a life of ease and flow
So let's change that
I teach chakra balancing and self care strategies for stress.
These are simple but effective methods to help you prioritise yourself, clear old emotions and self doubt from your energy and design a life you love.
Chakra Balancing and Self Care Strategies

Your energy naturally drifts out like tentacles as you go about your day. You take on the worries you encounter, you may feel saddened by the difficulties someone else is experiencing, you put aside your own needs to help. This leaves you feeling tired and drained.
Instead let's pull your energy back to you, reset your emotional energy, balance chakras and beat stress . I teach this DIY ReSet method at local workshops and online. This keeps the inner work as easy as 1, 2, 3…
Being clear with your intentions and what you want in life sets a clear path for you to flow with.  Vision, Actions, Thoughts, Emotions in Sync – Learn how to use your inner pendulum to Reset Your Energy 
 Dimensional Healing – Self Care Strategies for Stress

Save
Save
Save
Save
Save
Save
Save
Save
Save
Save
Save
Save
Save
Save
Save
Save
Save
Save
Save
Save
Save
Save
Save
Save
Save
Save
Save
Save
Save
Save
Save
Save
Save
Save
Save
Save
Save
Save
Save
Save
Save
Save
Save
Save
Save
Save
Save
Save
Save
Save
Save
Save
Save
Save
Save
Save
Save
Save
Save