Feeling Balanced occurs when your emotions are aligned with your thoughts and actions. Old beliefs and programmes can cause internal conflict and stress, obstructing your personal growth. Contact me for booking or read more.
Emotions are a core of energy which keep the energetic attachments of memories in place. Every trauma, pain or upset you have experienced have emotions attached to them. When these emotions are not acknowledged and released they can be stored in your body's cells and energy fields. This creates disharmony and dysfunction, draining your emotional energy so you feel out of balance.
Your emotional wellness creates your thoughts and beliefs. Unhappy thoughts lead to beliefs which stop you accessing your full potential. They prevent you from taking action to move forward in your various roles throughout life.  In a Reiki Spinifex Balance we identify the issues around those unhappy thoughts and emotions and clear them out of your energy. This allows your emotional energy to increase. You will feel empowered to take action in your life. Your emotional wellness is high. Resulting in feeling balanced.
Over time you will learn to use your emotional wellness as your barometer in life. When you feel stuck with a particular emotion, there is a memory or belief you need to clear from your energy.
Feeling Balanced is Emotional Wellness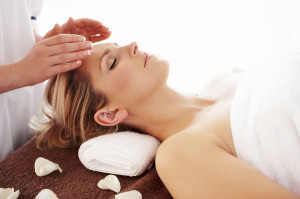 In a Reiki Balance we identify the issues which are creating stress for you and release them from all areas of your being.
Reiki Balance
During a Reiki Balance we discuss the issues that are bothering you, what you want to release from your life so that you can attract positive new energy and situations. Your Energy System works on what is the highest priority at the time. Then using a blend of energy modalities we reset your energy system. This may include affirmations, intuitive messages, oracle cards, crystals, flower essences.
You may experience changes in energy, including hot/cold sensations, tingling or pulsating or you may feel nothing at all. My clients find it is a relaxing, refreshing feeling regardless of any specific experience. It can take a day or two to fully process the healing, so plenty of water is recommended.
The changes you can expect in your life may be obvious and very definite. Or they may be very subtle. After a few weeks you may realise that some problem has just gone away leaving you feeling balanced.
As an individual with very individual needs and issues your energy makes changes as you need. I advise my clients that they will know when they are ready to clear more old stuff. As you clear away old emotional energy, those deeper issues will be more apparent to you. You will know when you are ready to let them go.
Benefits of Reiki Balance include
feeling balanced
Relax and reduce stress
Emotional cleansing
Clear past programmes and beliefs
Reset your energy to vibrate here and now
Pain relief
Improve clarity, focus, concentration, confidence
Enhances self awareness and self esteem
Allows us to accept ourselves
Better strategies for coping with life's problems
Compliments medical treatment
Suitable for all age groups and spiritual beliefs