Crystal Necklace for Aligned Chakras
Current Crystal Necklace Range
These crystal necklaces have been blended with the intent to align chakras to a particular vibration. They are cleansed and attuned with reiki healing energy. Standard Finished Length is 45cm just add a message with change of length request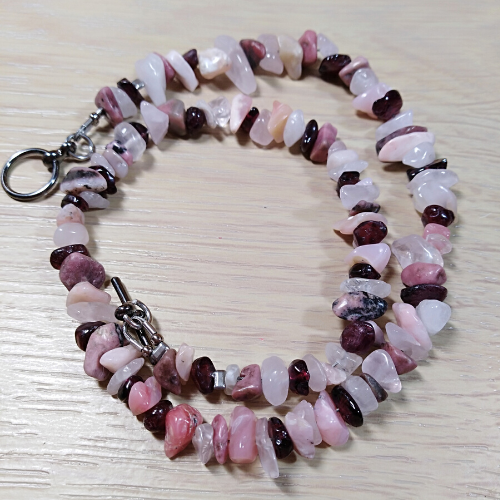 Be Calm – This Pink crystal necklace is reminding you about the commitment and compassion you give to yourself. Allow your emotions to come into balance. Nourish your inner self. Let yourself heal from the past. You are now at peace, protected, loved and healed. Take a little time for yourself and be tranquil as you withdraw from the chaos of emotional upheaval
Buy The Be Calm Blend which includes the heart stones of rose quartz, pink opal and rhodonite with garnet for courage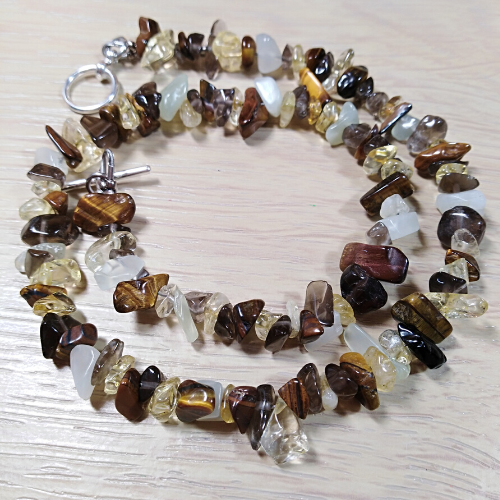 Be Purposeful – It's time to make things happen. This crystal necklace helps you focus your determination so you achieve success and abundance in working your own way. It's time to take charge of your work, your home, your life so that you align with your ultimate purpose. You have support to release the fear of change as you move forward with a positive outlook
Buy The Be Purposeful Blend which focuses on supporting your solar plexus and personal power with citrine and tigers eye. There's serpentine for change and smoky quartz to ground your purpose.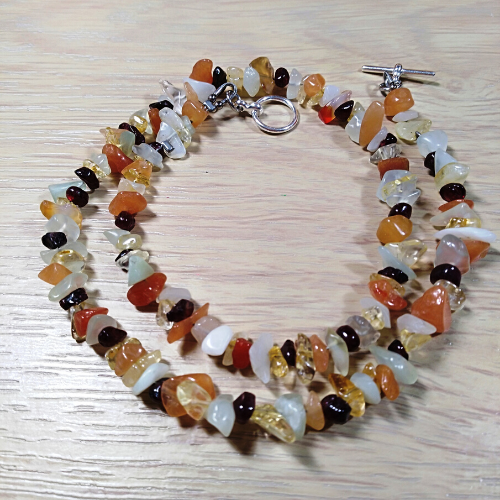 Be Ambitious – What do you truly desire in your life. How can you use your courage and individuality to manifest pure abundance. Where is your ambition focused. What do you want to create or manifest. Now is the time to make changes that allow you to follow your own desires
Buy The Be Ambitious Blend which aligns the sacral chakra with citrine and carnelian. There's serpentine for change and garnet for balance.
These crystal necklaces for aligned chakras are designed to sit near your collarbone giving your energy a positive vibration to align to. Standard Finished Length is 45cm just add a message with change of length request
Wearing Instructions for a Crystal Necklace for Aligned Chakras –
Can be worn 24/7 at your own discretion
Chemicals + perfumes will affect life of necklace
Metaphysically when crystal jewelry breaks or you can't bear to wear it your energy system no longer needs that energy. You can then repurpose the crystals as a door hanger/mobile in pot plant
made with quality fittings
treat like all costume jewelry – use any perfumes, sprays etc before putting on jewelry
not recommended to wear in spa, beach etc


Related Posts: