We are familiar with using systems in our workplace. Having a set path to follow when we do a task simplifies the task, in terms of the time it takes and the results you need to achieve.
Do you have Household Systems in place?
Regardless of whether we work outside the home or not, whether we run a business, a job, a household, or all three, when we utilise systems everything runs more smoothly. We create a routine which can easily be followed.
Grocery list and meal planning – what system do you have in place?
Every kitchen is run differently, depending on the number of people in the household, their diet needs and their schedules. Regardless of these differences each kitchen has items which are used regularly. When you develop a system that works for you, meal planning and shopping lists can take the hassle out of grocery shopping. This becomes a household system, a routine which anyone can follow.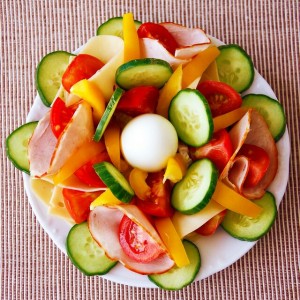 Do you plan your meals then create your list? Or do you shop then plan meals from what's in the fridge and cupboard? Do you have a different method?
I'm the sort who shops then plans meals from what we have.
My kitchen system means that I have regular items on my list. Things we eat all the time. It's part of living simply. I guess it's grown out of looking at the way we eat, what sort of meals we like, the way we like to cook. This has extended to other regular items we use, including particular brands. Dish liquid, paper towel, cooking oil, coffee, tea, spices, herbs, biscuits, flour, pasta etc
This all happens regardless of who cooks the meals, who writes the list, who does the grocery shopping. Do you see where I'm going here?
When we create household systems and routines, it then becomes easy to delegate tasks to family members. They just need to start by following what you have put in place. They learn by following the routine for the task. Over time they learn to be flexible and to experiment. To try something new and assess whether it is right for the household. To keep it or discard it.
There's just Hubby and I. He's retired and I began an afternoon job. Because I have a household system for food planning, he was easily able to take over the cooking. He has since branched out, adding his own extra flavours and feels very accomplished in the kitchen. He was never overwhelmed by taking over the cooking, never felt he had to learn something new or a new way of doing something.
Next time – how you can delegate tasks by having systems in place
So tell me – what Household system do you have running? What simple tasks have you been able to delegate? How have you been able to lighten your load?
Related Posts: