Chakra Necklace Personalised with Crystal Reading
When you order a Chakra Necklace we talk about your goals and what direction you are heading. Then I tune into your energy until I have around 5 crystals to work with, to give you support with your intentions.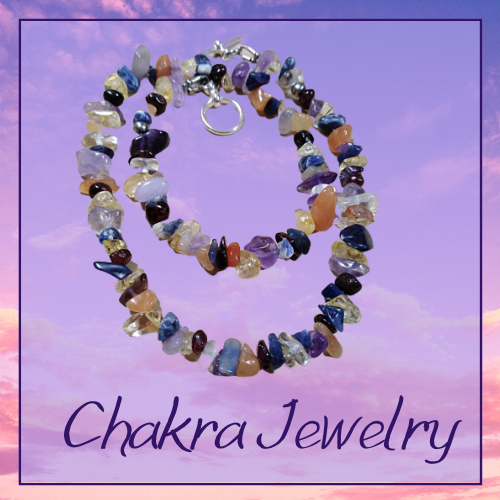 Each crystal has various metaphysical and physical meanings. I pick the trait that resonates with what you need. Often these crystals apply to several chakras. These are the chakras which relate to the areas of your life where you are needing extra support
I then make your chakra necklace using the crystal gemstone chips and working the intention of their meaning as I do. These are designed to sit around the hollow of your collarbone approx 42 – 45cm.
After your jewelry is made the crystals are activated with reiki and set to self cleanse. I also create a card telling you about the crystals used, their traits I've accessed and affirmations you can work with.
Wearing Instructions for a Chakra Necklace –
Can be worn 24/7 at your own discretion
Chemicals + perfumes will affect life of necklace
Metaphysically when crystal jewelry breaks or you can't bear to wear it your energy system no longer needs that energy. You can then repurpose the crystals as a door hanger/mobile in pot plant
made with quality fittings
treat like all costume jewelry – use any perfumes, sprays etc before putting on jewelry
not recommended to wear in spa, beach etc
Related Posts: