Direct Link and another Aussie Christmas Carol
While alot of my online friends are getting ready for snow and the cold, I'm getting ready for an Aussie Christmas. There are so many lovely traditional Christmas Carols like "I'm drreaming of a white christmas" and "Frosty the Snowman" that really don't work for summer. So click on the play button and enjoy a fun Aussie Christmas song. If you would like explanations of what something is just ask below in the comment section.
So what is an Aussie Christmas Like
An Aussie Christmas is in Summer. There are weather variants around the country. I'm near Brisbane Queensland so I can only tell you about what Chrissy Day is like here and it's hot. (and pretty hot elsewhere as well) Typically it can be around 38 degress C approx 106 F but not unusual to be anywhere from 32 – 46 C at this time of year. Often you can be set up for outside barbecue, then there'll be a storm late morning and you need to shift everything under cover.
It's Cricket Season, at present England is in Australia for the ashes tour, so far we've won the first 3 matches, there's usually 5 in the series. So we won the Ashes. These are 5 day matches. Then there's state matches, 20/20 and other international matches. Plenty to watch if you're a cricket fan.
It's also school holiday time, the kids are off for 6 weeks until the end of January. So "when I was a kid" we spent alot of summertime playing backyard cricket. Backyard cricket is also called French Cricket. The batter stands in middle with bat facing outwards, others create a circle and throw the ball from different angles. No runs just catches and getting legs with ball. We also only used a tennis ball. This is fun and only takes about 3 people to get started. Great for a mix of kids and adults anytime of year.
An Aussie Christmas day is barbecue and salads for lunch, backyard cricket, afternoon snoozes, spending the day at the beach or a park.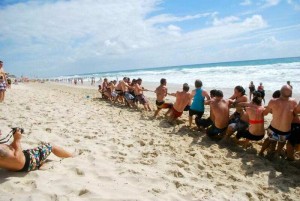 My Aussie Christmas Day This Year
My grandchildren do a half day with each parent. Its part of modern living. One set of kids are in Sydney, I'll visit them in January. The other set are local. We'll have a family day during the Christmas – New Year period. My own children grew up with their father being a shift worker, so Christmas Day was often adjusted to fit.
While family day doesn't really replace an Aussie Christmas day, it'll still be a great day. Grandson #1 has already requested a barbecue, there's plenty of area for them to roam and investigate here at my place, presents will still be exchanged and it will still be hot.
Merry Christmas everyone hope you have a fabulous day and a Prosperous New Year
So tell me – What area of the world are you in for Christmas? Do you adjust the day to suit work, family or other variables? Have you created your own special traditions for your family?
Related Posts: