Several months ago I made the decision to get motivated with my website, social media and networking to give my business a boost.
I have an afternoon/evening job and live approx 1 hour from the main city networking groups. This significantly reduces my ability to attend meetings.
My business provides energy balances for clients. This can be done by distance / remote sessions, and is the way I provide sessions, so it makes sense to shift my networking online.
Blogging was the obvious choice to boost my networking and website.
The Art of Blogging
Next was the most effective way to do it. Lots of online reading, signing up to websites to get their "how to" ebooks, more reading, more plugins to check out, more questions, more reading, more questions……
I learnt that the Art of Blogging isn't quite that simple!
Then I received my next newsletter from Delia at Blogformatting inviting me to take part in a special group to work on my blog. Well I was so excited I hit reply and said "Yes please!" Then proceeded to read it more thoroughly to see that I needed facebook page, twitter and pinterest accounts. So next was to update my twitter details (another thing I needed to learn) and create a new pinterest account for my business connections (my other one is full of hobby stuff) and send all the links off in a new email.
First step of updating was to review my social media accounts!
The Real Art of Blogging
While reading through Delia's blog and our homework I have been prompted to look at many things. Firstly, why am I blogging? What do I want to achieve by blogging? These questions have helped me in deciding what to write about and who I want to reach by blogging.
By week 2 of the Group
Through the information supplied in our weekly homework and all the extra blog posts on Delia's website I had managed to completely re-write my website. This includes learning heaps about wordpress and plugins, how to write content, layout of posts and images, and sharing on my social media sites. Yes I did all that work myself, with great feedback from Delia.
By week 4 of the Group
I've been connected with 30 lovely ladies all working on their own blogs. My posts have a defined purpose. I'm receiving very thoughtful comments, with which I can extend my content with replies. I have a plugin installed which gives links to commentators blogposts. I've learnt how to share other interesting blogposts through twitter. Have learnt more about twitter in gneral, although I do need to spend more time on it.
So have I learned the Art of Blogging?
Results – I joined a blog challenge, have daily blogposts, which I share so I have posts on twitter, facebook and linkedin. I have more connections in all places. I have a "list" started. I have a network forming. I have a much improved website. My answer is YES I have learned the Art of Blogging, and will continue to learn. 3 Steps to Identifying Recurring Patterns is my first blogpost!

And You Can Too
Does this sound exactly like what you need? To work with Delia follow Maximize your Blog to find out how. You won't be disappointed if you commit to the work involved.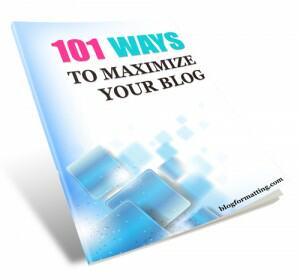 Conclusion – The Art of Blogging can be simple if you follow clear cut, well defined methods.

So Tell Me – Share your success with blogging, do you have a great tip?
Please leave a comment and share….
Related Posts: